Unlocking emojis; a handy guide
The rise of emojis has pretty much taken away the need for the English language. But for some, it's also seen the need to create a helpful guide to this new world order, where quirky images have replaced basic words.
This is especially prevalent in the dating world. One misplaced or misunderstood emoji can take you from hero to zero and the last thing we want is a misinterpreted peach or eggplant stalling what could have been a prosperous and long-lasting relationship.
See below our guide to the most used and most critical emojis for dating.
Love heart
Weirdly enough this simple love heart emoji is called the "heavy black heart", although this emoji when sent simply looks like a beautiful red heart, which is the perfect way to show affection. Other ways that are also successful – that may not be as intense as the simple heart - is the smiley with love heart eyes or the smiley that is blowing a kiss. Both are cute options, without putting your whole heart on your sleeve, or in a text box.
Kiss
Putting x's at the bottom of text messages is so 2009, the kiss emoji is where it's at. This one doesn't need much more explanation, but while it's straight forward adding this visual to your texts can go a long way.
Aubergine and friends
While the humble aubergine and its friend's corn and banana have nothing in common – in the world of emoji's – there's a lot of subtexts when sending a simple image of food.
If you're already lost – you have a lot to learn. All of these objects, if observed in emoji form, all resemble (somewhat crudely) the male appendage. Therefore, if you're getting (or sending), any images of these perishables don't be surprised if you get an intriguing invitation in return.
Advanced players will know that the aubergine is most famous, however mix it up and get some other fruits and vegetables in your life.
Peach
Now, this may be starting to feel like a cooking lesson, with all the different foods involved in this handy guide. However, this is yet another fruit that has another meaning.
The humble peach, especially in emoji form, looks like a ripe backside. So, if the person you're messaging has a particularly voluptuous derriere, let them know by sending a peach their way.
Smiling Poo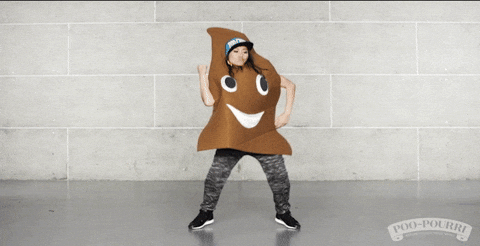 Smiling poo, sneaky poo, soft serve ice-cream, no one can universally agree on what this emoji means or stands for. That said, it doesn't mean it's not a crowd favourite.
While there's nothing particularly romantic in the poo emoji, it can be an excellent way to break the ice. If someone sends you the poo emoji out of the blue – it's going to get a response, and if they're a keeper, hopefully a smile. While there potentially could be other simpler ways to get a response, like by saying: "Hey, how are you?" But let's be honest, it's 2016, if you want to stand out - the smiling poo may just be the way to do it.
Which emoji helped win your dates heart? Tell us below.